On April 22, a bunch of daring men and women and their jaunty jalopies flocked to the T.Y. park in Hollywood, Florida, for the first Concourse d' Elegance organized by the South Florida Alfa Romeo Owners Club. This was an event for any Alfa, regardless of pedigree or condition.

Alfas of all kinds were on display, and owners were at hand to tell stories about their Alfas. As shown in the pictures, we had beautifully kept or restored cars as well as cars that were a little battered by daily use.

Our chapter Illustrissimo Presidente, Marc Mosko, masterminded the event. He is infallible and nobody dares to challenge his supreme will. He reasoned that we live in a litigious society, and realized that the event had to be run without any potential conflict of interest and in the spirit of equal opportunity. Thus, each car was scored on the basis of the criteria set by the Presidente himself, which by definition had to be perfect. Another consideration was that being in Florida we could not afford another vote miscount! The Presidente ensured that winners be determined fairly, unequivocally, and without the possibility of appeal by entrusting the evaluation of the entrants to the South Florida Alfa Owners Club Supreme Judges (Oyeh, Oyeh, Oyeh). Of course, neither the Illustrissimo Presidente nor the Judges entered their Alfas into the contest.

These fine gentlemen served as Judges for the Concourse:

Glenn Douglas: our VicePresidente, Illustrissimo pure lui!

Art Taxman: a true connoisseur of fine automobiles, owner and part-time restorer of Ferrari, Maserati, and Alfa automobiles (part-time means that the cars may actually never get done). His latest acquisition, a 1962 Giulietta spider, could not be entered in the concourse as it is currently lying in pieces over the garage floor at Richard Sirgany's shop. It went in for an oil change and it ended up getting an engine and tranny rebuild, and a paint job.

Don Dorra: a true gentleman, a friend of classy ladies, appreciative of fine wines and cigars, and legitimate owner of sophisticated automobiles (Lotus, Porsche, Alfa). Don showed up in his Porsche since he had trouble fitting a new radiator into his spider - it appears that the car shrunk after the last wash.

Richard Sirgany: Alfa shop owner and master racing tuner, loves Alfas more than anything else, especially when lying in pieces in his garage! Never let him near your Alfa with a wrench in his hand.

Mike Patterelli: professional restorer, his last "opera suprema" being the Giulia spider of our Illustrissimo Presidente. It appears that this one turned out so well that he is contemplating running away with it last time he was seen he was driving northbound in the Giulia. destination unknown.

Bruce Toski: he showed up with a 1973 Audi, but he is a true Alfista by heart trying to get an Alfa anybody wants the Audi?

Alex Gouras: our out of state judge, he came on purpose from New York - talk about true Alfa passion -and he is the founder of the GTV Registry featured in the January 2001 issue of the Alfa Owner.

Alberto Pugliese: webmaster of the South Florida Alfa Owners Club web-site, unofficial club photographer, and owner of a 1972 GTV 2000 stationed in Italy for the purpose of sporadic flat-out rides on the autostrada. I forgot, also author of this masterpiece of automotive literature. I don't think it gets much sicker than this.

After a delicious buffet (hot dogs & burgers but no pasta - let's call it by its true name: gravissimo sacrilegio), the judges got on with their assignments and painstakingly scrutinized each vehicle. Not a single floor mat was left unturned. As you can imagine, all votes and scores were counted once, twice, and then again, and again.

In the end, the 1972 Montreal owned by Jim La Londe wound up best of show and best of coupes.

First of spiders was the 1991 spider of Frank Luaces, followed by a rare 1960 Spider 2000, Touring edition, which has just been restored and is owned by Robert Lucas.

Awards were also given to the most cosmetically challenged Alfa, and Bob Bruetsch in his Alfetta got first prize.

Marty Kluger's "Fountain of Youth" 1987 spider ended up second by a tiny margin. This car looked really beaten but it has rejuvenated its owner for 147,000 long, long miles. Some malevolent subjects claimed this car should have been first and blamed it on the butterfly scoring cards that the Presidente recycled from a recently held beauty pageant contest.

It was a great day for South Florida Alfisti. Just check out the smile sported by our Illustrissimo Presidente!
And by the way, the day ended in glory, at least for the author and the Presidente, enjoying industrial loads of delicious pasta (courtesy of first lady Eva Mosko).

See you later, alfagators


Congratulations to Bob Bruetsch, the winner of the "most cosmetically challenged" category! The Vice-president Glenn Douglas approves in the background.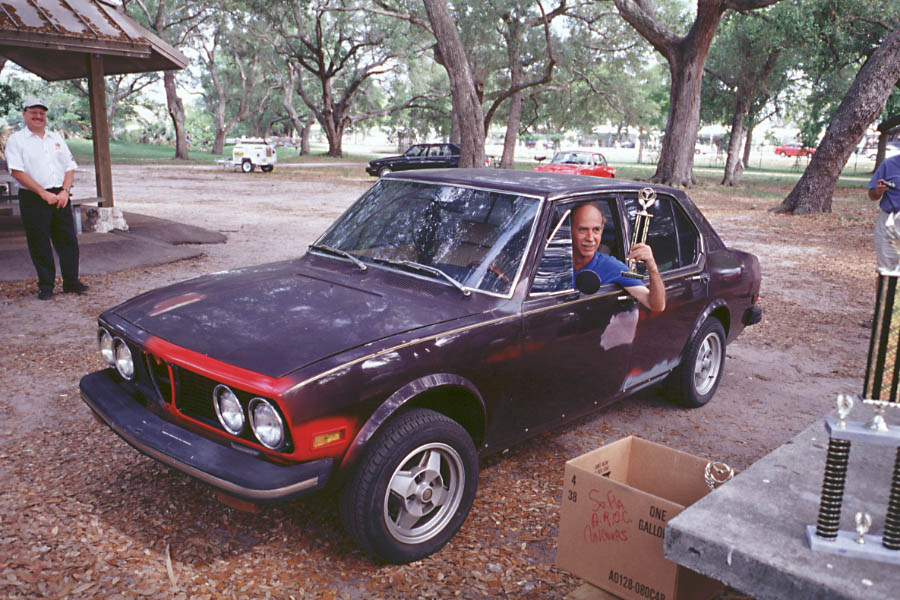 Marty Kluger and his 1987 spider, runner-ups for the "most cosmetically challenged" category. Congratulations for 147,000 miles and the plate, that says it all!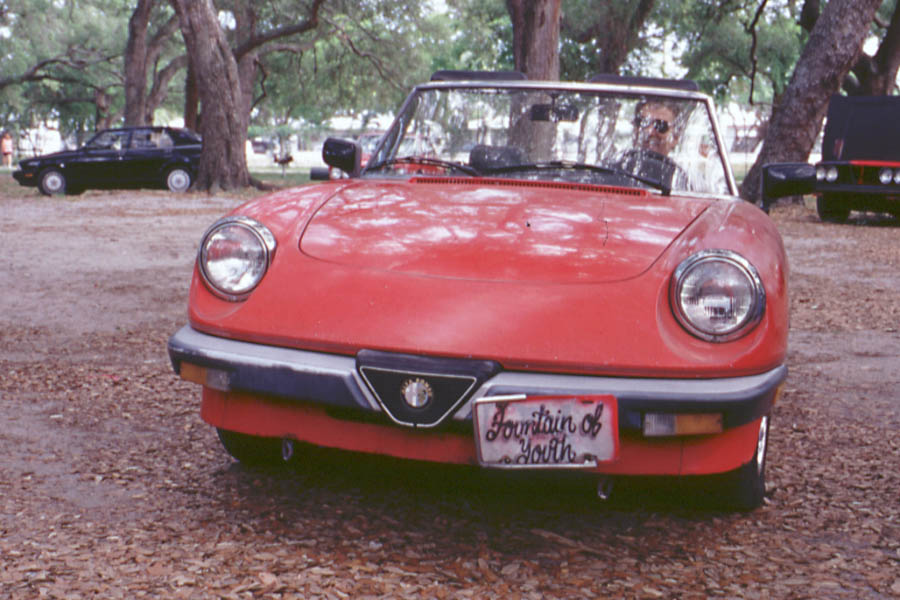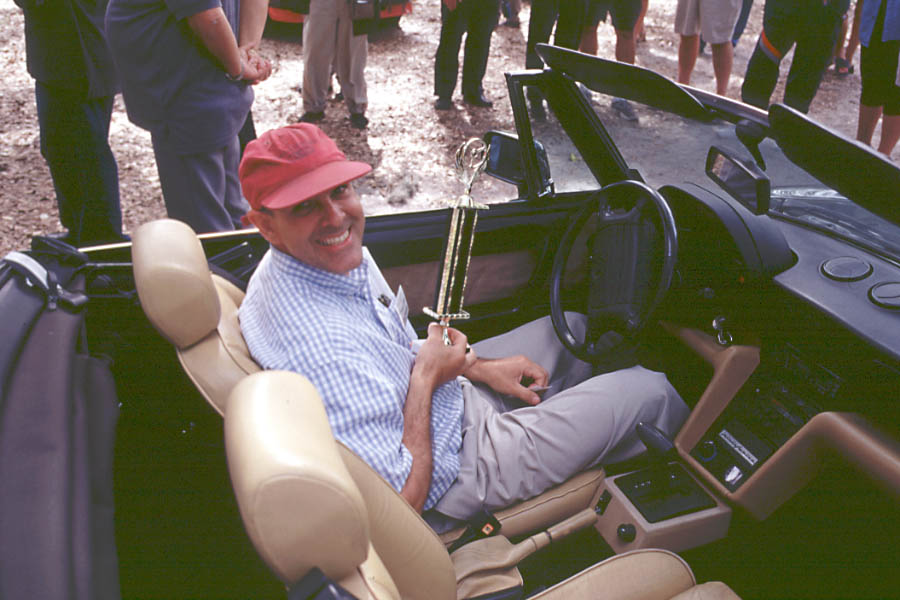 Frank Luaces proudly displays his trophy for best spider.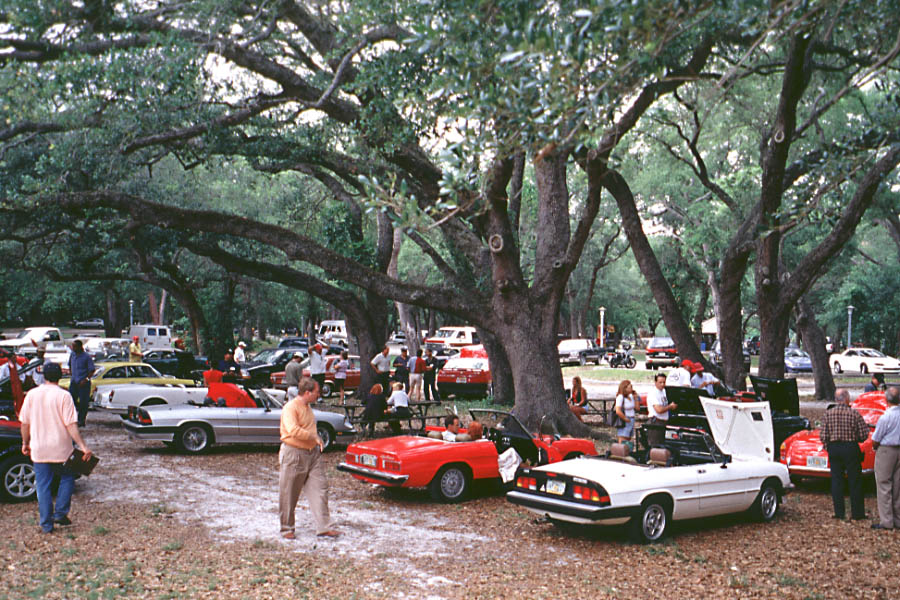 The SFAROC Supreme Court Justices at work.. Oyeh Oyeh Oyeh
Robert and Rosalind Lucas proudly present their freshly restored 1960 Spider Touring.
Alfa conosseur Richard Stevens checks out this beautiful Montreal.
Robert Lucas drives away with the trophy for second best spider.
Jim La Londe and his 1972 Montreal ran away with two trophies: best of coupes and best of show!
Your Presidente did not enter the Concours, but here is his latest Alfa, just restored. Look at that smile!!!
More photos of our Concourse d'Elegance by Bruce Toski are available at:
-http://www.imira.com
-where it says "Search for an Album", select search by "album title". Type "SFAROC" in the empty box click GO.